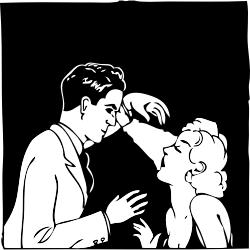 The actress Julie Walters has revealed that a combination of hypnotherapy and acupuncture helped her leave her night terrors behind.
According to birminghammail.net, the Oscar-nominated star suffered from night-time problems as well as panic attacks for decades until she sought out the alternative treatments.
Walters, 62, told the local news provider that she now sleeps "very well", when previously she would wake up in the middle of the night screaming in a panic. She questioned how her husband, Grant, coped with it all.
The star is perhaps most famous among a younger generation of movie fans for playing Molly Weasley in the Harry Potter films, as well as providing the voice for a character in the latest Pixar picture, Brave.
But for Walters the acting industry has changed a great deal since she first started acting, reported telegraph.co.uk. She claimed that a long time ago it was mostly working class people who entered the movie industry, but now mostly "posh" youngsters are getting into the profession.
"I always wanted to act. Back then [when she went to drama school] it was still possible for a working class kid like me to study drama because I received a grant. But the way things are now, there aren't going to be any working class actors," added the actress.
Tel: Southport Hypno-health - 07756259453
Email - contact@southporthypno.co.uk